Thyroid health is essential for your overall health. The thyroid is responsible for many bodily functions, and overall health can suffer if it's not performing as it should. Chiropractic care is one of the most effective ways to treat a thyroid disorder and promote thyroid health.
Chiropractic care improves the health and function of the nervous system. This promotes better thyroid health. Chiropractic treatments correct spinal misalignment, which disrupts brain and nervous system function. These things are responsible for thyroid regulation. Seeing a chiropractor for thyroid health is safe, all-natural, and effective for maintaining good thyroid health.
Introduction to Thyroid Disorders and Chiropractic Care
Chiropractic care is excellent for promoting and sustaining overall health, including thyroid health. Chiropractic treatments can help someone achieve and maintain optimal thyroid function as part of a multidisciplinary approach.
Chiropractic care focuses on bringing the nervous system into balance, which affects every cell in the body. When there is interference or imbalance in the nervous system, it can affect the thyroid gland.
Many thyroid conditions are linked to the autoimmune system. The nervous system controls the autoimmune system. Bringing the nervous system into balance promotes a healthy autoimmune response.
While chiropractic care won't be a quick fix or cure for thyroid dysfunction, it can be vital to a comprehensive treatment plan.
Understanding How the Thyroid Gland Functions
Your thyroid gland is located at the base of your neck. It's a small, butterfly-shaped gland. The thyroid is part of your endocrine system, which is responsible for regulating many of the body's internal functions.
The thyroid is small but mighty. It produces hormones that play a role in the function of:
Metabolism
Muscle control
Heart function
Digestive function
Mood
Brain development
Bone health
Common Thyroid Disorders and Their Symptoms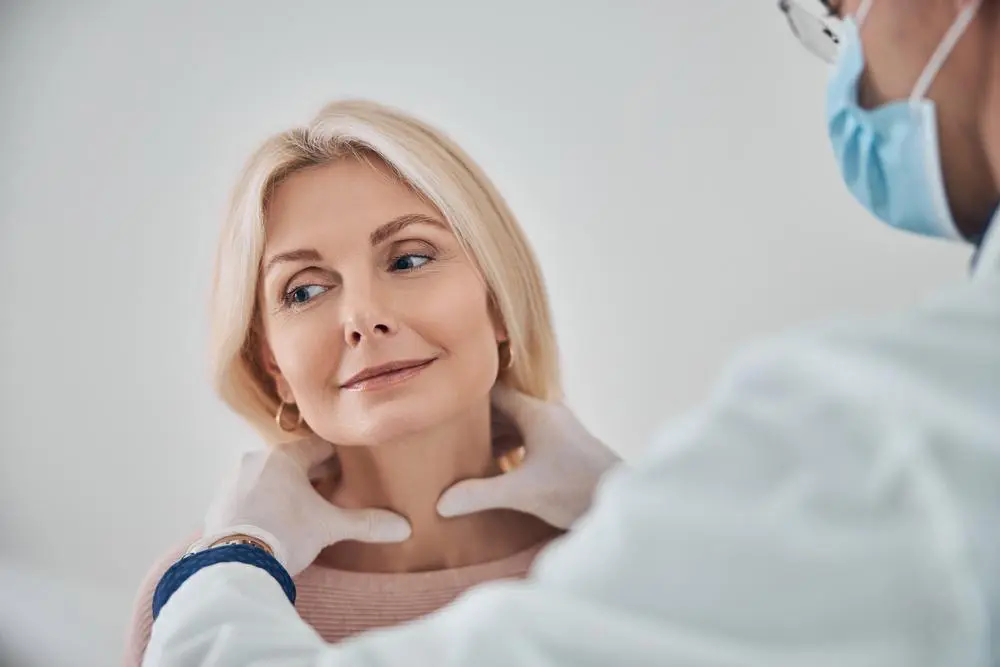 Some of the most common thyroid disorders include:
Hyperthyroidism
Common symptoms of hyperthyroidism include:
Anxiety
Brittle hair and nails
Restlessness
Nervousness
Racing heart
Irritability
Increased sweating
Shaking
Trouble sleeping
Thin skin
Muscle weakness
Weight loss
Grave's Disease
Symptoms of Grave's disease include:
Bulging eyes
Goiter (enlargement of the thyroid)
Anxiety
Altered menstrual cycle
Diarrhea
Excessive sweating
Hand tremors
Irregular heartbeat
Fatigue
Irritability
Hypothyroidism
Symptoms of hypothyroidism include:
Coma
Fatigue
Depression
Dry skin
Increased cold sensitivity
Memory lapses
Constipation
Weight gain
Weakness
Slow heart rate
Hashimoto's Disease
Common symptoms of Hashimoto's Disease include:
Fatigue
Goiter (enlargement of the thyroid)
Intolerance to cold
Depression
Constipation
Mild weight gain
Dry skin
Dry, thinning hair
Pale, puffy face
Heavy, irregular menstruation
Benefits of Chiropractic Care for Thyroid Disorders
Chiropractic care offers many benefits for treating thyroid disorders. First and foremost, it's safe and effective. There are very few side effects, and many patients find it a great addition to their treatment plan. It can be used in conjunction with other treatments, including medication. In some cases, people can eventually reduce or eliminate their need for medication as their thyroid and overall health improve.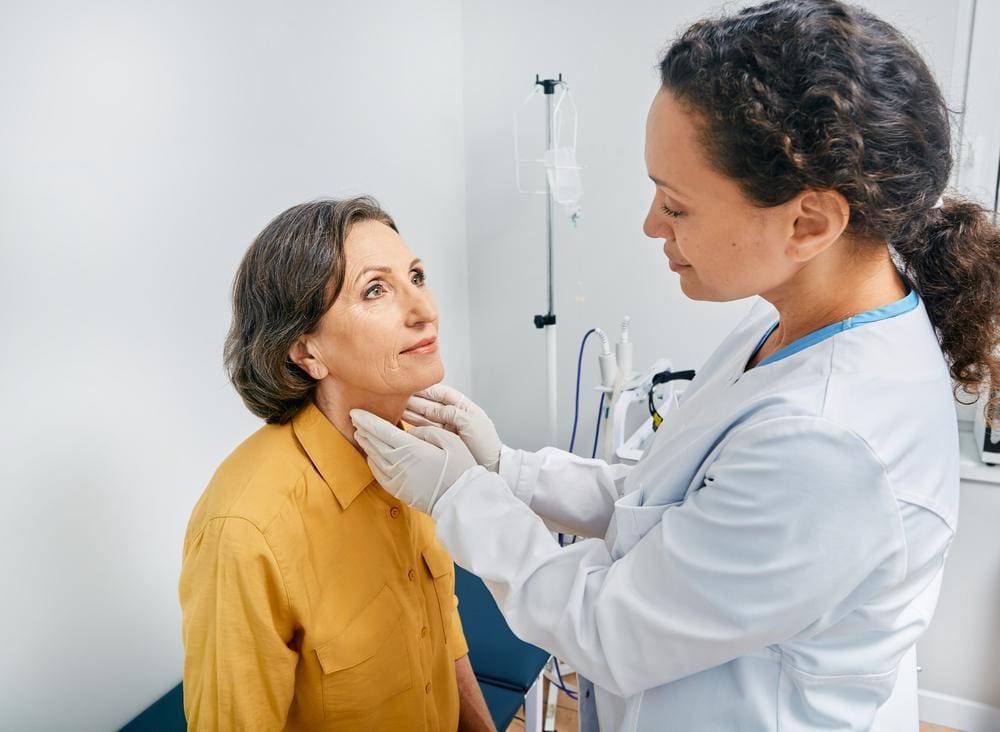 Chiropractic treatments also target the root cause of health problems. In the case of thyroid health issues, it promotes healing and health of the spine and the nervous system. The thyroid is located between the C5 and T1 vertebrae. The nerves affecting the thyroid gland travel into the spinal cord. When there is interference with communication in this pathway, it can lead to problems with the thyroid and other parts of the body. Correcting misalignment allows for healthy communication and function, promoting overall optimal health.
Chiropractic Techniques for Thyroid Disorders
Chiropractors can use several treatment techniques to help with thyroid health.
The most common is spinal adjustment. This gentle aligning of the spine brings an out-of-balance nervous system into balance.
Chiropractors also provide nutrition counseling to patients. Alone, nutrition changes and supplements might not be enough to resolve thyroid problems, but used in conjunction with other treatments, healthy eating supports healthy thyroid function.
Chiropractic adjustments and treatments also help patients cope with health problems indirectly. For example, a chiropractor might recommend massage therapy, which can ease the stress and anxiety associated with managing health disorders.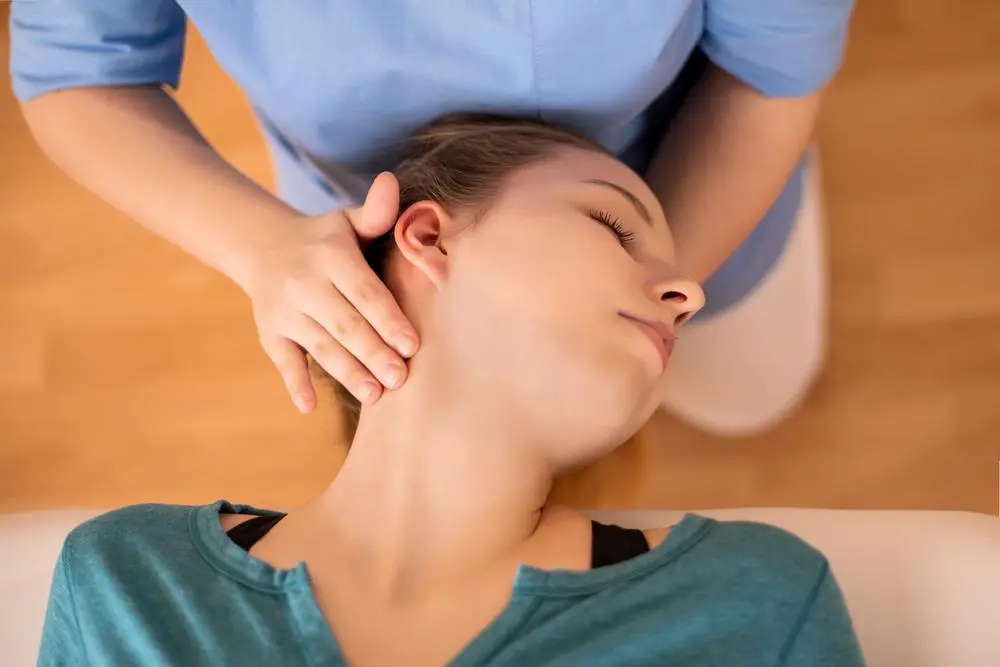 promotes the flow of communication throughout the body. It's common for chiropractors and acupuncturists to work together to promote and support thyroid health.
The Importance of a Multidisciplinary Approach to Thyroid Care
Many people find that a multidisciplinary approach to treating a thyroid disorder and supporting thyroid health is the most effective option. In most cases, several healthcare professionals collaborate to help patients manage their disease. A multidisciplinary team for treating thyroid disorders might include:
Primary care doctor
Naturopath
Chiropractor