The symptoms that occur as the result of a pinched nerve, also known as radiculopathy, range in severity depending on the type and area of compression.
There are three types of nerve root impingement including:

Foraminal stenosis is a common cause of nerve root impingement. It involves the narrowing of the openings that allow nerve roots to enter and exit the spinal column. This significant change or shift of bone structure within the spine leaves a person at an increased risk of developing a pinched nerve in the affected area.

Diagnosing nerve root impingement may be as simple as a physical examination with obvious deformities or pain with certain movements. It may require imaging tests like an x-ray, MRI, or ultrasound.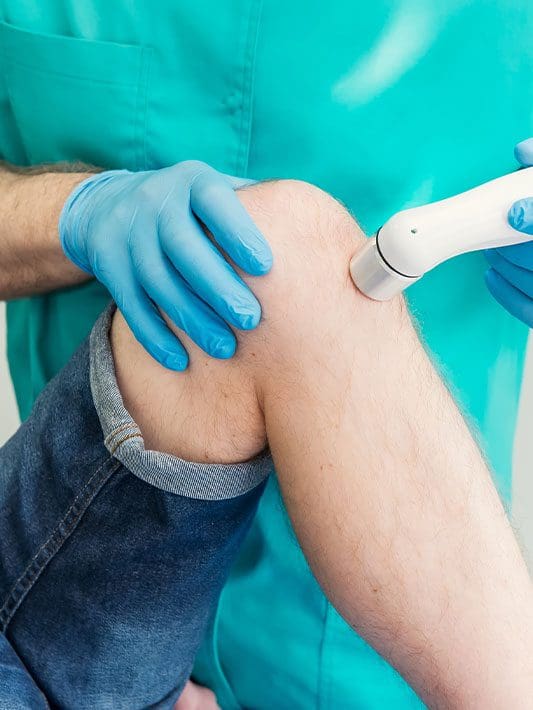 What are the symptoms of nerve root impingement?
Symptoms of nerve root impingement range in severity depending on the extent of the injury. It also varies in what area of the body is affected based upon the area of the spine where a nerve has been compressed.
Symptoms of cervical nerve impingement
The cervical spine is the neck region of the spine located just beneath the base of the skull. It is composed of seven vertebrae, labeled as C1 to C7, and supports and controls the head.
The most common symptoms associated with a cervical spine injury, like a pinched nerve, are present in one or both arms and hands.

Symptoms of thoracic nerve impingement
The thoracic spine is the middle area of the back beginning at the base of your neck and extending to the bottom of the ribcage. It consists of twelve vertebrae, labeled from T1 to T12, provides crucial support to the chest and abdominal cavity, and allows adequate rib attachment.

Symptoms of nerve root impingement in the thoracic region of the spine are present in the upper back and radiate or wrap around the body.
Symptoms of lumbar nerve impingement
The lumbar spine is the lower back region and is home to five vertebrae (L1 to L5). It connects the spine to the pelvis and is responsible for bearing most of a person's body weight. When nerve impingement occurs in the lumbar region, a person often experiences pain when sitting or coughing, as well as symptoms that affect one or both legs and feet.

Commonly reported symptoms include:

Paresthesia (pins and needles sensation)
The intermittent feeling of the hands or feet "falling asleep"