The most common electro stimulation therapy used by chiropractors are:
EMS (Electrical muscle stimulation): Electric current is used to contract muscles, relaxing muscle spasms while improving blood flow in the area
TENS (Transcutaneous Electrical Nerve Stimulation): Electrical stimulation is given to the painful areas to block out pain signals along the nerves, reducing pain.
Chiropractors use electric frequencies toward painful muscles and nerves to reduce pain and help recover from injuries, such as an auto injury or work injury. The electric current used in the therapy mimics the neuron signals and, when targeted at painful muscle groups, helps contract them, improving blood flow and repairing injured muscle cells.

If you are experiencing muscle spasms, weakness, or pain after an injury from a car accident or because of any underlying medical condition, electrical stimulation therapy can work for you.

Some of the medical conditions that can be treated by using the therapy are muscle spasms and weakness involving poor motor control, joints and pains from an injury, lower back pain, and tendonitis.

What are the benefits of electrical stimulation?
Electrical stimulation can benefit you in the following ways:
Improves muscle health. E-stim can be an effective way to contract the muscles to remove pain, reduce swelling, and improve muscle tone in people. It also leads to faster healing of the injuries.
Prevents muscle atrophy. Muscle atrophy or reduction of muscle mass can happen because of an injury or some underlying disease like Multiple Sclerosis. Electrical stimulation contracts the weakened muscles and keeps them active.

Speeds up the recovery process. E-stim improves blood circulation in the injured area and helps the wounds to heal faster.

Helps with managing pain. The therapy uses varying electrical wavelengths to block the activity of the pain receptors providing relief from pain.

Some other benefits of using electrical stimulation patients can realize are:
Improved mobility in joints after an injury like a car accident
Reduced the intensity of muscle spasms
Reduced swelling by improving fluid absorption in the injury site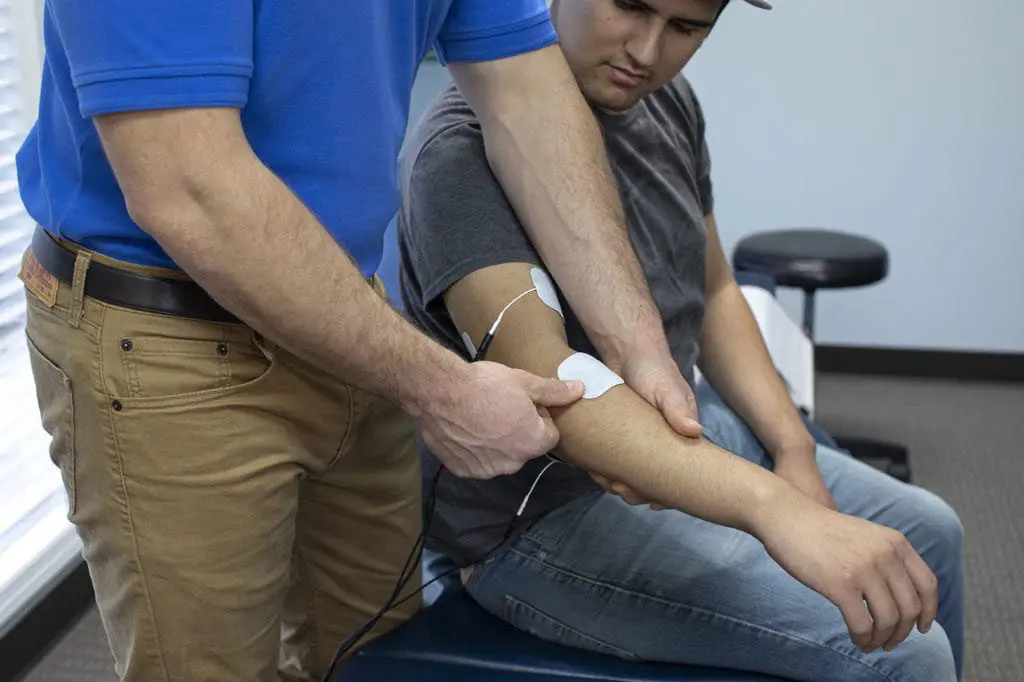 How does EMS work?
Electrical stimulation therapy uses electric pulses to block pain signals along the nerves while releasing pain-killing endorphins to relieve pain. For muscles therapy, EMS contracts the muscles, releasing tension and improving blood flow in the area.

While using electrical stimulation as a part of physical therapy, your chiropractor will place small sticky pads known as electrodes on parts of your body that require treatment. The electrodes can be easily removed after treatment.

The electrodes are attached to an e-stim device with the help of wires. The electric current will be set on a low setting and increased gradually.

During the treatment, steady streams of electric current are transmitted from the e-stim machine to your injured areas using the wires. You can get a tingling sensation that increases till it feels strong but comfortable. Depending on the type of e-stim, you might even feel your muscles twitch or contract repeatedly.

The treatment may feel uncomfortable but will not be painful. When the therapy is used to stimulate your muscles, you will feel relaxed during the treatment. Where e-stim is used to stimulate and contract your muscles, you may need to contract the muscles while the machine is working.

An electrical therapy session can last from 5 to 15 minutes, depending on the type of e-stim used and the purpose of the treatment.

Is electrical muscle stimulation safe?
Electrical stimulation as a part of physical therapy is considered safe. It has been used for decades by chiropractors and other medical professionals to treat muscle injuries and pain resulting from car accidents. It is a painless and effective treatment when used by qualified professionals.
Are there risk factors for certain individuals?
Although electrical stimulation therapy is safe for most people, here are some factors that can prevent you from getting treatment.

Pregnancy: During pregnancy, it is best not to use electrical therapy in the abdomen, lower back, or pelvic bone to prevent complications.
Cancer: If diagnosed with cancer or have had cancer in the last five years, you may not be eligible for treatment.

Epilepsy: If you have epilepsy, applying electric current can cause seizures.
Implanted devices: If you have implanted devices like a defibrillator, blood pressure monitor, etc., transmitting electric pulses can damage your embedded device.

Heart problem: If you suffer from heart problems, using electrode pads on your chest can lead to failure.
Is electrical muscle stimulation painful?
Electrical muscle stimulation therapy uses electric pulses to contract tight muscles, helping them relax while improving blood flow in the area. Applying an electric current to the injured area can feel like a tingling sensation and can cause some discomfort for some people, but the treatment should never feel painful.

Most people feel a sense of relaxation after undergoing electrical muscle stimulation treatment.