What is a chiropractic adjustment?
As you move throughout the day, gasses and toxins like carbon dioxide, oxygen, and nitrogen travel through the body becoming trapped in various joints like your knees, ankles, wrists, and knuckles. When these gasses cannot release on their own, you begin to experience pain in the affected joint, making it difficult to use the limb.

A chiropractic adjustment is a non-invasive treatment provided by a highly skilled professional who specializes in disorders and injuries involving the musculoskeletal system. The musculoskeletal system, a critical structure in the human body, is made up of bones, ligaments, connective tissues, cartilage, and tendons.

A chiropractic adjustment can be done on a:

A chiropractor uses their hands or specialized tools and equipment to provide various treatments, like a chiropractic adjustment, to relieve aches and pains, improve posture, and correct subluxation (the unusual or improper alignment of vertebrae).
What is a chiropractic adjustment used for?
Chiropractic adjustments are the most common alternative treatment in the United States for treating musculoskeletal-related aches, pains, and injuries, like those from a car accident or work injury.

Though common, no two reasons for visiting a chiropractor are the same and no two treatments are the same either. However, all treatment is performed with healing in mind.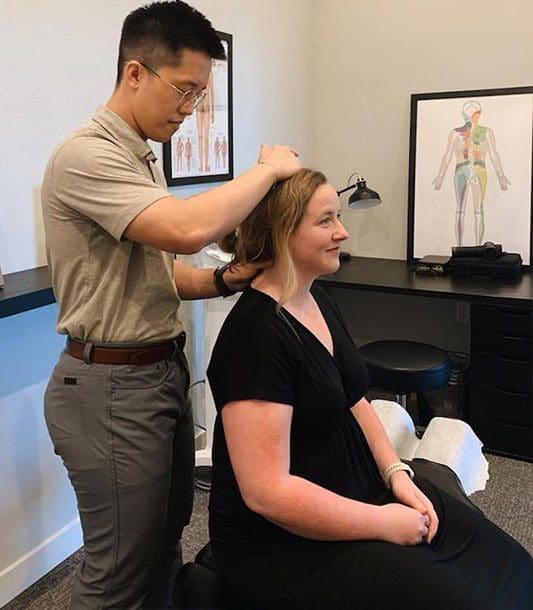 Chiropractic adjustments are used for several reasons with a few goals in mind:
Help the body heal itself
Provide preventative care against future injury
Do you suffer from chronic conditions like arthritis, experience frequent headaches or migraines, have persistent aches, pains, or muscle stiffness, or have been involved in a recent car accident that resulted in an auto injury? A chiropractic adjustment can help to identify the underlying cause of pain through imaging like x-rays, CT scans, or an MRI.

Chiropractic adjustments are frequently used to treat patients of all ages, from infancy into late adulthood, through skilled and accurate movement designed to restore normal body movements, increase mobility, and allow you to live life again without pain.

What are the benefits of a chiropractic adjustment?
Chiropractic adjustments focus on treating injuries involving the musculoskeletal system and identifying the underlying cause of unknown symptoms.

Benefits of chiropractic adjustments include:

Reduced pain throughout the body
Improved range of motion in the joints and spine
Symptom improvement of chronic conditions like arthritis and osteoarthritis
Treatment for tension or stress disorders
Improve the body's ability to heal itself
Healing from whiplash or other car accident-related injuries
Natural, drug-free treatment
What happens at an initial chiropractic adjustment consultation?

During the initial consultation at a chiropractor's office, you may see similarities to an initial consultation by a physician that practices conventional medicine. The chiropractor assigned to your case will begin by asking you to detail your past medical history including past surgeries, over-the-counter and prescription medications being taken, and if there is a family history of certain disorders.

Your chiropractor will perform a physical examination to assess for the presence of deformities, misaligned vertebrae, or other abnormalities that may need further diagnostic testing. When indicated, your chiropractor will order an x-ray, CT scan, or MRI for closer examination to better formulate a treatment plan.