AUTO INJURY RECOVERY SPECIALISTS
Salem's Top-Rated Chiropractic Clinic
If You Have Been Injured in a Car Accident, Don't Wait to Get Help. Call Us to Get Started. Specializing in Personal Injury Protection (PIP) Insurance.
Our Salem Chiropractor office offers a comprehensive approach towards your treatment and recovery plan in line with our commitment to provide each patient with the best care possible. With an entire team of highly trained chiropractors, therapists, and staff, our chiropractic clinic is ready to handle virtually any injury you may be suffering from.

It's our goal to provide Salem's drivers and passengers with the highest quality auto accident chiropractic care. Contact us today to learn how we can help you recover after an injury.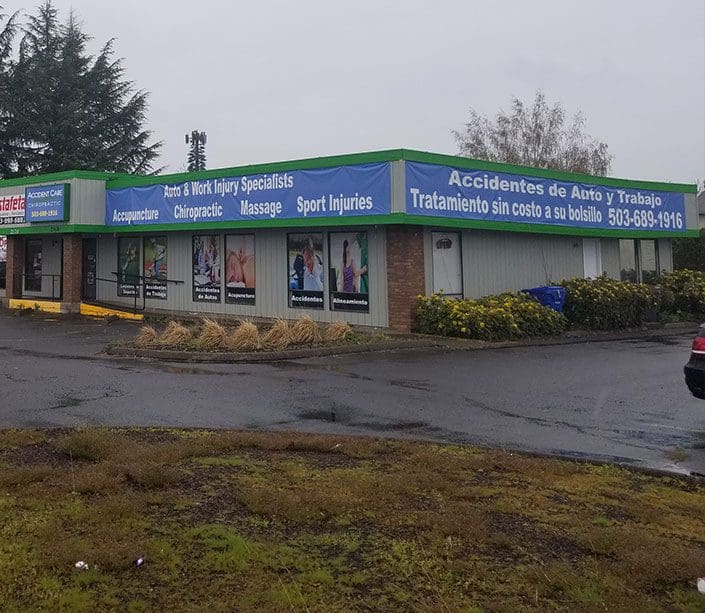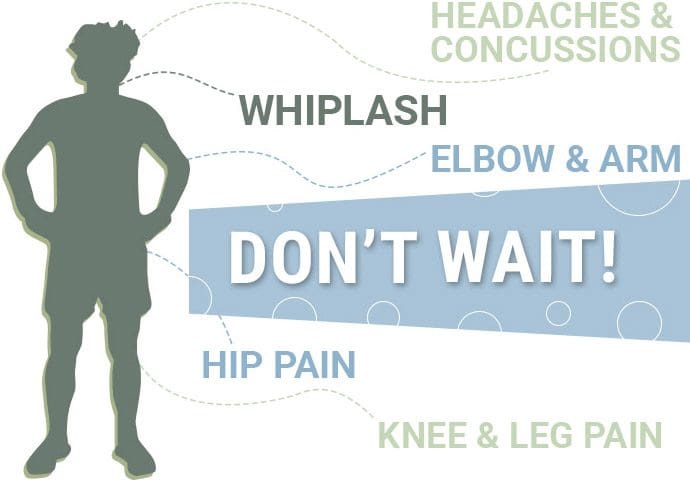 Salem Clinic Services
Chiropractic Therapy Treatments
Monday: 10AM–7PM
Tuesday: 10AM–7PM
Wednesday: 10AM–7PM
Thursday: 10AM–7PM
Friday: 9AM–5PM
Saturday: Closed
Sunday: Closed

some of our patient reviews
Meet our team
Chiropractors
Your Trusted Car Accident Injury Chiropractor in Salem, OR
Accident Care Chiropractic Helps Heal the Most Common Injuries

When your head quickly jerks forward and backward, the force stretches ligaments, tendons, and muscles beyond their typical range of motion.
If it's left untreated, whiplash can lead to disability, memory loss, and other debilitating symptoms.
Even though it might seem passive at first, whiplash can have lifelong health effects.
Whiplash is the most prevalent auto accident injury.

After an auto accident, self-healing of soft tissue injuries may create scar tissue.
If your spine isn't aligned before this occurs, you may suffer from spinal degeneration, decreased range of motion, and other long-term issues.

Treatments

Even if you aren't experiencing any symptoms, it's best to see a chiropractor after an auto accident. Contact us today to learn more about the following benefits.
Reduced pain. Our chiropractors will realign your spin and alleviate pressure on affected muscles and nerves, bringing instant pain relief. During an adjustment, the body releases natural pain-relieving hormones, such as cortisol and oxytocin, which further minimizes pain.
Stiffness

Better range of motion. Stiffness is a common symptom experienced by many auto accident victims. Chiropractic care restores and improves range of motion by realigning and mobilizing the spine. Non-invasive care. Our treatment plans involve no medications or surgeries, so you won't experience adverse side effects such as allergic reactions, bleeding, and nausea.
Pain Free

The primary goal of chiropractic treatment is to facilitate self-healing. Unlike surgical and medication-based interventions, chiropractic care addresses the underlying causes of pain and offers lasting solutions. A chiropractic adjustment realigns the entire spine, removing pressure from affected nerves and bringing nearly instant relief. With a thorough alignment, nutrient- and oxygen-rich blood will flow to the affected area, promoting faster healing without drugs or surgery.
While most injuries arise from frontal or rear-end collisions, whiplash can happen after an impact from any direction.

Chiropractic Care

The time after an auto accident is a frightening and confusing one, and there are numerous steps to take when getting the care you need. If you've been in an auto accident, it's crucial to schedule an appointment with a chiropractor as soon as possible. Some accident injuries don't appear for weeks afterward, which can cause problems during an insurance claim. Our chiropractors will give you the immediate treatment you need while documenting the severity of your injuries.
Massage Therapy

At Accident Care Chiropractic, we know that every patient is different. Our massage therapists will work with you to devise a customized care plan that takes your physiology, needs, preferences, and injuries into consideration. After a chiropractic adjustment, a good massage will relax your muscles and bring additional pain relief.
X-Rays

Accident Care Chiropractic's Salem clinic provides in-house X-ray services to help our chiropractors diagnose patients' injuries more accurately. Our X-ray services are provided by licensed experts and covered by most insurance plans.
Physical Therapy

Our chiropractors offer in-home and in-office therapy to reduce costs and shorten recovery time. These ancillary services will help strengthen your body after an accident and ensure that injuries heal properly.
Acupuncture

With roots in ancient Chinese medicine, this non-invasive treatment offers easier pain management and other great benefits. Contact us today for additional details.
Physiotherapy

Our electrical stimulation treatment plans aid in the healing of soft tissue injuries and the relief of post-accident pain. This non-harmful, painless treatment will hasten your recovery and restore your body to optimal health and vitality.
Administrative Assistance

After an accident, you'll have to work your way through a mountain of insurance and medical paperwork. It can be quite overwhelming, but we're here to help. At Accident Care Chiropractic, our team members will learn about your accident injuries and your health history, using that information to assist you at every step of your treatment plan.
Nutritional Guidance

Proper nutrition will help you feel better and shorten your recovery time. It all starts with the beverages and foods you consume! By focusing on nutritious, whole foods, you'll increase the effectiveness of the treatment we provide and build healthy habits that last a lifetime.
We'll Make Your Post-Accident Recovery Easier