Chiropractic care is an all-natural, holistic treatment that can help you relieve the symptoms of Complex Regional Pain Syndrome (CRPS). If you're experiencing symptoms of this condition, seeking treatment as soon as possible is best. Here's what you should know.
About Complex Regional Pain Syndrome
Complex Regional Pain Syndrome (CRPS) is a condition that causes chronic pain in an arm or leg. It often occurs as a secondary condition following:
The pain tends to be severe and far more intense than the initial injury.
CRPS is uncommon. Medical professionals aren't sure of the exact cause of the problem. Early treatment improves outcomes and can force the condition into remission.
CRPS Symptoms
The symptoms of CRPS include:
Chronic burning or throbbing pain
Sensitivity to cold or touch
Swelling in the area
Changes in skin temperature
Joint swelling, stiffness, or damage
Muscle spasms, weakness, or tremors
Decreased range of motion in the body part
Changes in skin color, usually white or red, or blue blotches
Changes in skin texture, usually a thin or shiny appearance
Changes in nail or hair growth
Symptoms vary from person to person and can change over time. Usually, swelling, pain, and hypersensitivity are the first to arise. Additionally, the area is often cold and sensitive to touch at the beginning of the problem.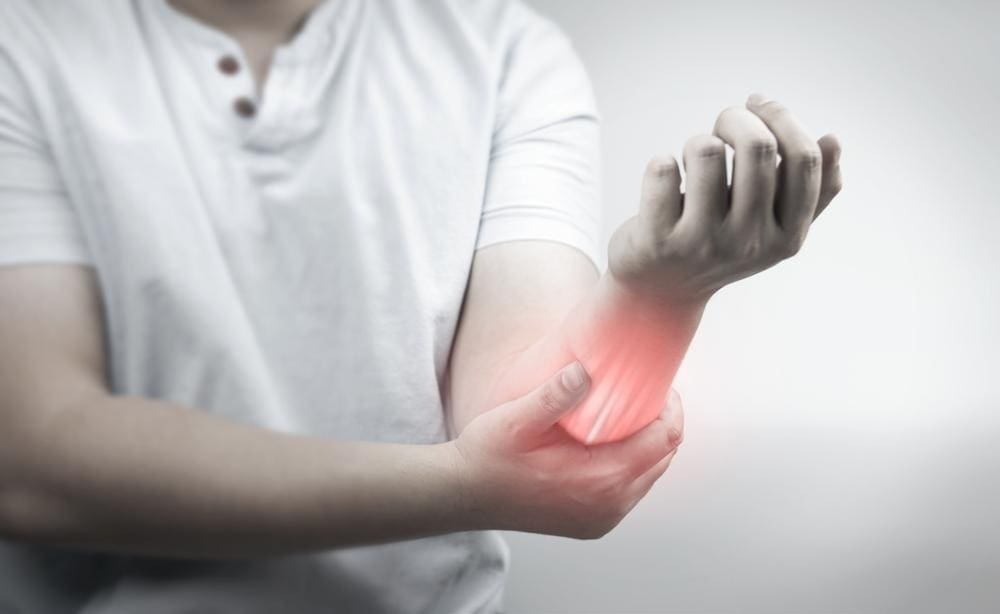 Once the affected area becomes cold and pale, and muscle spasms and tightening begin, treatment is less likely to be effective. For some people, waiting to treat CRPS makes the condition irreversible.
There are occasions when the issues spread to other parts of the body.
For some, the symptoms of CRPS resolve on their own. Other people deal with the symptoms for months or years.
How CRPS Develops
Medical experts don't know precisely why CRPS develops. It's usually associated with an injury that affects or causes a difference in the peripheral and central nervous systems. It's often linked to an injury or trauma to the affected area or the brain.
Not everyone at risk of CRPS develops symptoms.
Type 1 CRPS
Known as Reflex Sympathetic Dystrophy (RSD), this type arises after an illness or injury that doesn't directly affect the nerves in the affected area. This accounts for about 90 percent of CRPS cases.
Type 2 CRPS
Once known as causalgia, this type displays similar symptoms to RSD, but it occurs following injury to a nerve.
How CRPS Is Treated
Early treatment is the best option for those who develop symptoms of CRPS. In most cases, a combination of treatments specifically tailored to the individual works best.
Treatment options include:
Medications: Prescription and over-the-counter pain medicines, antidepressants, anticonvulsants, bone loss medications, corticosteroids, intravenous ketamine, sympathetic nerve-blocking medication, blood pressure medications
Therapies: Heat therapy, topical analgesics, physical therapy, occupational therapy, mirror therapy, transcutaneous electrical nerve stimulation (TENS), biofeedback, acupuncture, spinal cord stimulation, and other manual therapies
Even with successful treatment, CRPS can recur. Often, this is due to a specific trigger, such as stress or exposure to extreme cold. Often, the same initial treatment successfully relieves the discomfort of a recurrence.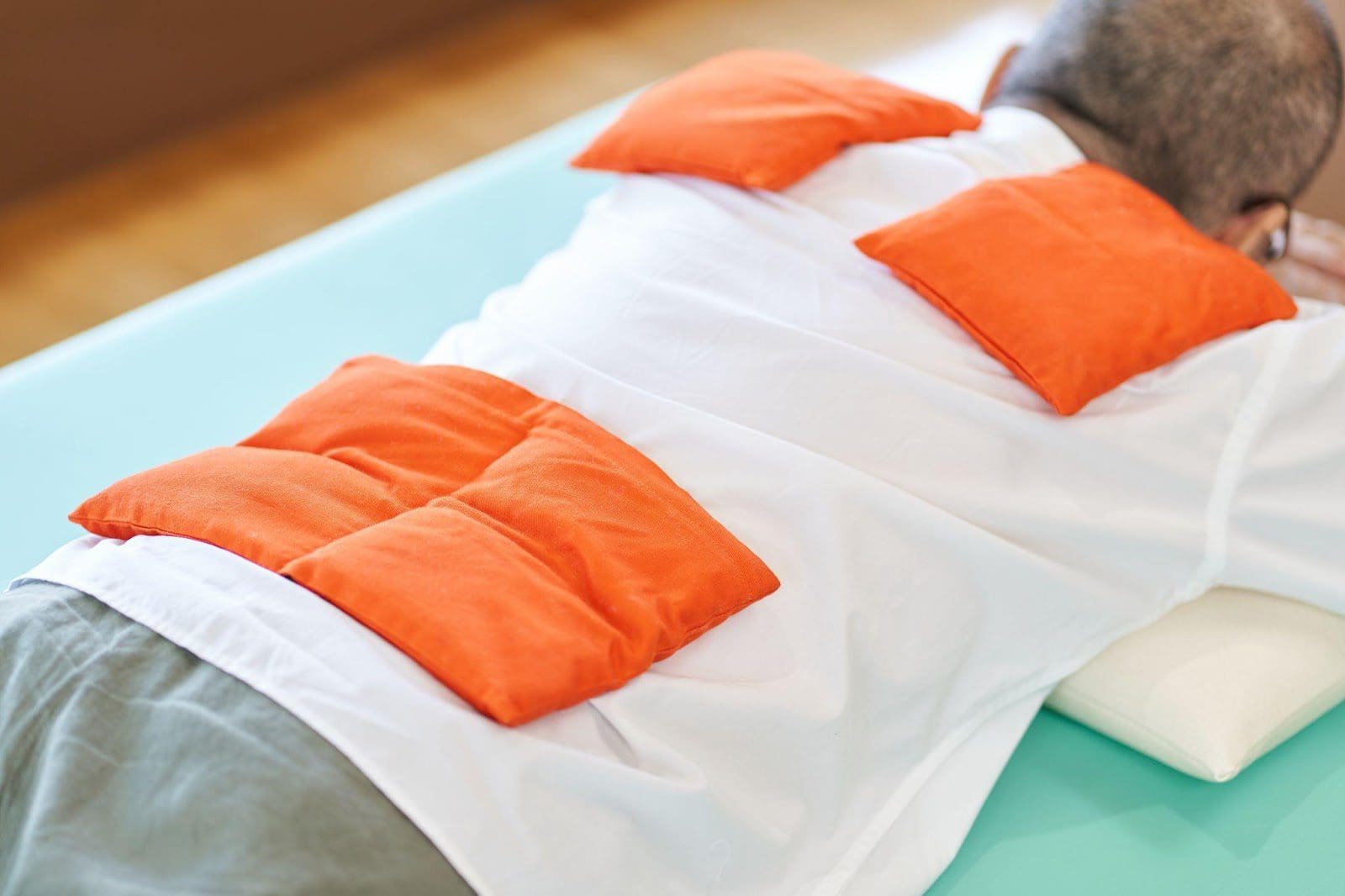 How Chiropractic Care Can Help Alleviate CRPS Symptoms 
There are several things a chiropractor can do to alleviate the symptoms of CRPS. It isn't necessarily a cure for the condition, but it does ease the discomfort and make everyday activities more easily manageable.
Chiropractic treatments aim to remove pressure from the vagus nerve. This restores proper function and causes it to stop inflammation in the nerves.
Many of the above-listed treatments, including TENS and spinal cord stimulation, are within the scope of practice for many chiropractors.
Chiropractic treatment for CRPS seeks to improve the following:
Nerve Function
Your nerves are responsible for interpreting the pain that occurs within your body. Every time you experience pain, the nervous system is involved. Two of the most essential nervous system components are the brain and the spinal cord. The brain is the body's control center. It makes decisions and interprets your pain. The spine acts like a highway throughout the body and transmits signals to the brain. When your spine is misaligned, the nerve signals can be misinterpreted. Chiropractic treatment improves your spine's structure, nerve function, and communication between the body and brain.
Pain
Pain reduction is one of the significant goals of chiropractic care. Most people experience immediate pain reduction after just one session with a chiropractor. This relief can last for hours or days after the fact and increases in intensity and duration as treatment continues. Over time, most people seeking chiropractic care for CRPS experience long-term pain relief.
Range of Motion
Stiffness and decreased range of motion are common among those with CRPS. Unfortunately, this acts as a cycle for the condition. You experience stiffness due to CRPS, and CRPS exacerbates stiffness in the muscles and the painful symptoms of the condition. Chiropractic care seeks to improve the range of motion, decreasing the stiffness and pain associated with CRPS.
Benefits of Chiropractic Care for CRPS
Research is inconsistent regarding the cause of CRPS. Originally, the condition was viewed as being caused by excessive nervous system activity. However, over time, studies failed to identify an increase in sympathetic nervous system activity, and researchers began to alter their theories about CRPS.
New theories suggest that it's an increase in neurotransmitter receptors causing CRPS. There is also some evidence that a localized inflammatory response could play a role.
Regardless of the exact underlying cause of CRPS, chiropractic care helps with all the issues associated with the condition.
This is because chiropractic care and the manipulation of the spine regulate the autonomic nervous system at the peripheral level. It also helps the central nervous system and activates the parasympathetic nervous system to balance the sympathetic system.
Chiropractic care brings the body into balance. It supports the body in fixing its problems and restoring optimal health.
Additionally, chiropractic care helps your entire body. It promotes your body's natural healing response and brings your body back into balance. Chiropractic care helps with the following:
Low back pain
Neck pain
Nerve pain
Joint pain
Numbness
Tingling in the extremities
Digestive regularity
Muscle spasms
Unusual sensations
Range of motion
Additionally, a chiropractor can help you improve other aspects of your life that affect your health. Nutrition is one example of this.
Good nutrition includes eating habits and supplementation and addressing how nutrition affects your specific health conditions. A chiropractor can help you modify your eating habits and determine your needs for supplementation.
Finally, a chiropractor will recommend an exercise program you can practice at home. To further improve your body's function. These exercises will address CRPS symptoms as well as your overall health.
In many cases, exercise routines include strengthening and stretching, similar to what you'd experience in physical therapy or rehab. The goal is to retrain your body and, of course, bring it back into balance. In addition to these therapeutic exercises, you might also receive recommendations for general exercise to improve overall fitness and health.