Cerebral palsy (CP) is a group of disorders affecting someone's ability to move and maintain balance and posture. It's the most common motor disability in children.
Cerebral (having to do with the brain) and palsy (weakness or problems with using the muscles) mean someone's entire body is affected. The condition is caused by abnormal brain development or damage to the developing brain.
The symptoms of cerebral palsy vary in type and severity. Mild CP might cause an awkward gait, whereas severe CP can result in a complete inability to walk. Other symptoms include:
Problems with posture and movement
Intellectual disabilities
Seizures
Vision problems
Speech problems
Hearing problems
Scoliosis
Joint problems
Cerebral palsy is diagnosed in early childhood, usually within the first year of the child's life. Parents often seek medical advice when their child misses the standard milestones of development, including:
Crawling
Walking
Rolling over
Fine motor skills
It's also common for parents of babies not old enough to reach these milestones to seek medical attention if their child feels stiff, floppy, or pushes away when being held.
Chiropractic care is an effective tool for managing cerebral palsy. It uses spinal manipulation to affect the body's joints, bones, soft tissues, and neuromuscular system. It helps promote the body's natural healing response and treats the root cause of disorders, including cerebral palsy.
It's an approach based on reductionism, conservatism, and homeostasis. Chiropractors believe pain and illness are linked to vertebral subluxation and should be treated with non-invasive intervention whenever possible. It emphasizes self-healing and supports the body in doing what it's naturally capable of doing.
People seek chiropractic treatment to address the following:
You can use chiropractic care in conjunction with other medical treatments and at-home treatments such as ice and heat therapy, herbalism, vitamins and nutritional support, and other homeopathic or holistic medicine.
In addition to all of the common issues chiropractic care can treat, it's also effective for helping someone manage the symptoms of cerebral palsy.
Safety and Effectiveness of Chiropractic Care for Cerebral Palsy
Chiropractic care is safe and effective for treating many conditions associated with cerebral palsy. This includes:
Back pain
Breathing issues
Gait patterns
Muscle contractures
Scoliosis
Seizures
Sleep problems
Chiropractic care improves muscle and brain communication. Problems occur in the body when there is interference in the communication between the brain and muscles. This happens in people with CP. Chiropractic care improves the communication between the brain and the muscles. It improves flexibility, balance, strength, and coordination.
Chiropractic Techniques for Cerebral Palsy
People seeking chiropractic treatment for cerebral palsy will undergo a medical history evaluation and X-rays. The chiropractor will evaluate the X-rays looking for curvature in the spine, subluxations, muscle tone changes, and tissue and other abnormalities.
Once the evaluation is complete, the chiropractor recommends a treatment plan. This includes chiropractic adjustments but might include massage therapy, physical therapy, and recommendations for exercises you can perform at home.
Chiropractors use a variety of techniques to help with CP, including:
Static Palpitation: Use of the hands to detect signs of misalignment
Motion Palpitation: Movement of the bones to create separation
Leg Check: Moving the legs to reveal subluxation in the spine
Chiropractors use gentle force to move the spine to the optimum position. Specific adjustments include:
Diversified Movement: Manipulation of the entire spine
Activator Technique: Utilizes devices for adjustment
Cox Technique: A low-force adjustment
Gonstead Technique: Using a specific path for adjustment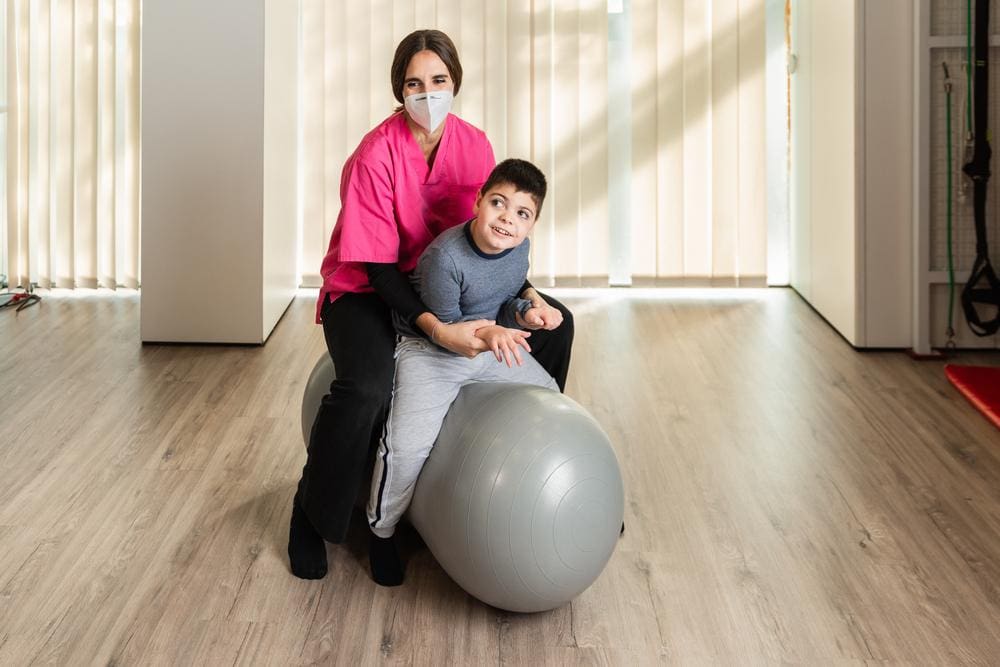 Adjustments occur over an extended period, especially when treating a chronic condition like cerebral palsy.
Benefits of Chiropractic Care for Cerebral Palsy
The benefits of using chiropractic care for cerebral palsy include the following:
Improving posture and mobility
Enhancing nervous system function
Reducing muscle spasms and pain
Improving sleep and relaxation
Boosting overall well-being and quality of life
Multidisciplinary Approaches for Cerebral Palsy
Chiropractors usually coordinate with others on the medical team of someone with cerebral palsy. This allows for a comprehensive treatment approach.
The members of a CP multidisciplinary team usually include:
Physiotherapist
Occupational therapist
Chiropractor
Massage therapist
Precautions & Considerations for Children with Cerebral Palsy
Chiropractic care is safe and effective for treating children with cerebral palsy and other medical issues. However, it's still important to take precautions, even if you work with someone who is a fully-qualified practitioner of chiropractic.
Chiropractic care should never be painful. If a child experiences pain during or after treatment, another problem is likely occurring, or the practitioner is unqualified.
You might hear a popping sound as the gas escapes from the joints during an adjustment. This is normal and doesn't indicate a problem, even if it sounds or looks disturbing. As long as this isn't painful, it shouldn't be a problem.
Choosing a Qualified Chiropractor for Cerebral Palsy
There are several things to consider when choosing a chiropractor to treat cerebral palsy. For example:
Experience in general
Experience coordinating care with conventional healthcare providers
Experience delivering care to CP patients
Education, training, and licensing
Whenever possible, it's best to work with a chiropractor who has experience treating people with cerebral palsy. If seeking care for a child with CP, look for a practitioner familiar with working with children and not just adults with CP.