Bursitis is a painful condition that can affect any joint. Find out why chiropractic treatment for bursitis is so effective.
A red, swollen, and painful joint may indicate bursitis. Chiropractic care comes to your aid to stop the pain and restricted range of motion in the affected joint. You receive multiple benefits through adjustments and other chiropractic modalities, including pain relief. Let's review the seven key benefits of chiropractic care for bursitis.
How Can Chiropractic Care Help Relieve Bursitis?
If you have experienced hip bursitis, knee bursitis, or elbow bursitis, you know the detrimental effects that it brings. Chiropractic care is an all-natural, non-addictive bursitis treatment that focuses on realigning the spine and other joints. This works to reduce inflammation, improve nerve function, and promote general body wellness to enable your body to fight bursitis symptoms.
Chiropractors leverage multiple treatments for bursitis, from spinal adjustments to soft tissue therapy, ice therapy, ultrasound stimulation, and other complementary modalities to confer the various benefits we will review below.
If you want to ease bursitis pain, consider chiropractic care to benefit your joints–and your finances!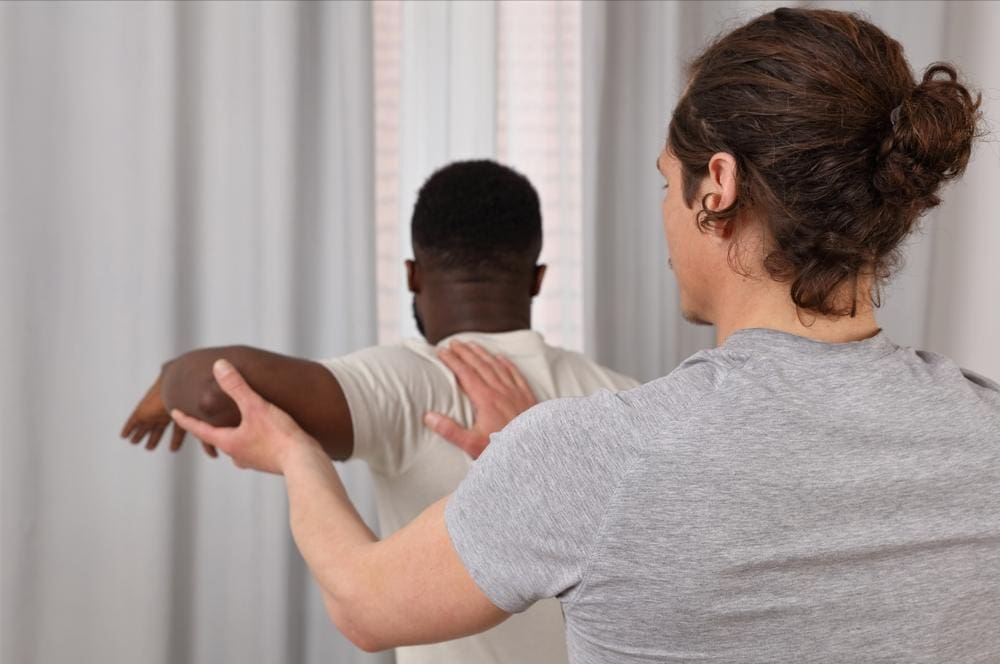 Benefits of Chiropractic Care for Bursitis
The chief intent of seeking alternative bursitis treatment instead of pharmacological intervention is to expedite recovery and receive long-term relief from bursitis symptoms. Chiropractic care is a comprehensive treatment whose benefits transcend the obvious pain relief. Here are the key benefits.
1. Alleviating Pain
Chiropractic care for bursitis realigns the joints, easing irritation on the bursa. Disturbance in the bursa and nerve compression from the affected joints usually causes pain. The chiropractor will employ ice therapy to calm a painful swollen joint before adjusting it. Never try to modify a swollen joint yourself.
The spinal and joint alignment relieves pressure from the nerves, eliminating pain from bursitis. If you have septic bursitis, consult a doctor rather than a chiropractor. 
2. Reduced Inflammation
Inflammation of the bursa is your body's way of telling you to stop overusing that joint. Chiropractic treatment for bursitis - such as ultrasound therapy - reduces inflammation in the early stages. In the advanced periods, spinal adjustments lessen the production of neuropeptides which cause inflammation. Once your spine is aligned, you will have better nerve flow and less neuropeptide production, consequently decreasing inflammation.
3. Rapid Symptom Relief
Chiropractic care is for you if you want to cut back recovery time for bursitis considerably. The recovery period varies depending on the uniqueness of the bursitis case, but it is generally shorter than recovery from surgery. Bursitis symptoms usually resolve within months of chiropractic care. The nature of bursitis and the treatment approach will determine the recovery timeline.
4. Improved Flexibility in Affected Joint
Joint-specific manipulations and overall spinal adjustments reinstate the joints' range of motion while improving flexibility. Also, the treatments ease muscle stiffness, contributing to a more flexible joint. The chiropractic diagnostic test usually uncovers complications in joints other than the ones you discovered yourself.
5. Treating the Root Cause of Bursitis
The causes of bursitis vary, and bursitis can occur in different parts of the body, such as the elbows, hips, and knees. Chiropractic treatment's targeted approach ensures the chiropractor accurately diagnoses the cause using motion and imaging tests before tailoring a treatment plan to you. Only after an accurate diagnosis of the cause will the chiropractor begin treatment to ensure they treat the root cause, not just the symptom.
6. Non-invasive Treatment
No scalpel or anesthesia is coming near you when you seek chiropractic care for bursitis. That's a relief. The doctors of chiropractic use only manual and instrument adjustments with adjunctive therapies to treat bursitis. The non-invasive nature of chiropractic care further contributes to faster recovery.
7. Medication-free Treatment
Pain relievers provide fast pain relief from bursitis, but they have their shortcomings. Opioid painkillers, in particular, have addiction concerns. Enter chiropractic care. The treatments are all-natural and involve hands-on adjustments or instrument-assisted therapy. Even better, chiropractic adjustment treats the root cause, not the symptom, offering long-term relief compared to prescriptions you'll need to keep refilling.