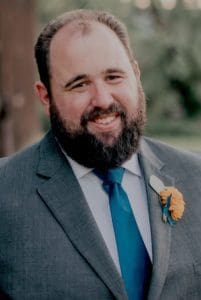 Job Title: Chiropractic Physician
Clinic Location(s): Gresham 503-660-3552
Where I grew up: Canyon Lake, California
First job I ever had: I worked as an aide in a Physical Therapy Clinic assisting the PT in modality care and scheduling /managing patients.
If I wasn't a chiropractor, I would be: I knew that I always wanted to help people and I almost went the direction of Paramedic/Fire Rescue.
Favorite Junk Food: All the carbs! Growing up in an Italian household pasta and bread became very common comfort food. I will also never turn down a trip to Salt and Straw for ice cream!
In my free time I like to: Sleep! Having an infant in the house has made me realize how much I miss sleeping. But in reality I love spending time with my wife and son. We love to road trip and travel and spend as much time outdoors as we possibly can.
Favorite Song:  Too many to list and it really depends on the day, but Wish You Were Here by Pink Floyd has always been near the top.
Why I became a Chiropractor: From a young age I have always been a bit more reckless than I should have been, and injuries were fairly common. One of the injuries was significant enough to warrant a visit to the Chiropractor that my parents were seeing at the time, and I was fascinated at the sounds and how much better I felt after my first adjustment. Throughout my childhood and adolescence I grew to love sports and played soccer for multiple years before swapping to football and continued seeing my Chiropractor throughout my playing days. After another significant injury caused me to no longer be able to play on the field to my full capacity, I became part of the training staff that responded to field injuries and helped with recovery of these athletes. From this point on I knew I wanted to help people with pain and injuries recover and that I wanted to be in the healthcare field. I have always had a love for Chiropractic and I enjoy to work in a discipline that I love.
Why I love what I do:  It is so often for people that have gone through a trauma or injury to feel that they are never going to get better, or just resign to the fact that way they are feeling has become their new normal. Working close with these patients and seeing the progress both physically and mentally and improving to a level far beyond their expectations has become the driving force in my career. Additionally, I love that I am in a career that is constantly progressing and in a continual state of improvement. As Chiropractors we are tasked with taking the newest and best scientific research to guide how we treat our patients, and I can't wait to find new ways to be more effective at getting our patients feeling at their absolute best.
https://accidentcarechiropractic.com/wp-content/uploads/2021/01/Dr.-Raymond-Leo-headshot.jpg
817
800
laurenaccidentcare
https://accidentcarechiropractic.com/wp-content/uploads/2021/01/Accident.Care-Chirorpractor.logo_.png
laurenaccidentcare
2020-07-24 20:13:20
2021-03-22 20:13:47
Get to Know Our Chiropractors: Dr. Raymond Leo