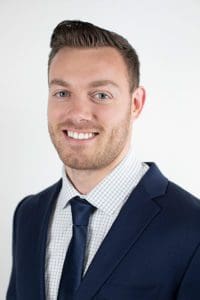 Job Title: Chiropractor
Clinic Location(s): Clackamas
Where I grew up: Pine City, MN
First Job I ever had: Lifeguard at a man-made beach in my hometown.
If I wasn't a chiropractor, I would be: An acupuncturist.
Favorite Junk Food: Chips and Reese's Peanut Butter Cups.
In my free time I like to: Run, weight-lift, be active whether that is playing yard games or sports, be outside and/or explore the great outdoors, jam out to music and surf spotify for new music. Being active, outdoors, and/or listening to music sums up my free time.
Favorite Song: I love music too much which I can't choose a "favorite" song. I typically go back and forth between genres depending on the time of year, activities, how I'm feeling, and so forth. I'd say some of my favorite genres include blues/blues-rock, 70-80's rock and funk, pop/pop rock, hip hop, and BPM. Some of my favorite artists include B.B. King, Stevie Ray Vaughan, Fleetwood Mac, Earth Wind & Fire, John Mayer, 50 Cent, Dr. Dre, J. Cole, Drake, Logic, Classixx, Avicii, and Kygo.
Why I became a Chiropractor: As a kid, I was very active and played various sports. When I was older, probably around 15-16 years old, the human body began to fascinate me. I wanted to know as much as I could about human anatomy and physiology. Long story short, I was a Freshman or Sophomore sprinter on the varsity high school track and field team. Yes, as you can imagine, a sports-related injury brought me to my first chiropractic visit. I was astound by the results. Within two visits I was able to return to sprinting at full capacity without pain. From my experience, I learned more about the chiropractic profession day after day until shortly after I knew I wanted to become a chiropractor.
Why I love what I do: I love being a chiropractor for many reasons. First and foremost, I absolutely love helping others with their injuries. Being able to witness how the patient progresses through care from their initial to last visit is fulfilling. Secondly, the knowledge and skills to diagnose and explain injuries is satisfying. Most healthcare providers don't know how to exactly work up or explain injuries as a direct result from a motor vehicle crash. Lastly, a chiropractor is typically unlike any other physician a patient will encounter. As a chiropractor, I enjoy connecting with my patients on a personal level.
https://accidentcarechiropractic.com/wp-content/uploads/2021/01/Dr.-Jordan-Pangerl2.jpg
817
800
laurenaccidentcare
https://accidentcarechiropractic.com/wp-content/uploads/2021/01/Accident.Care-Chirorpractor.logo_.png
laurenaccidentcare
2020-06-12 19:43:33
2021-03-22 19:46:06
Get to Know Our Chiropractors: Dr. Jordan Pangerl